Modular F.R.L., MODULAR F.R.L./PRESSURE CONTROL EQUIPMENT
Soft Start-up Valve AV□2000-A/3000-A/4000-A/5000-A
Description
・Start-up valve for low-speed air supply to gradually raise
 the initial pressure in an air system and for quick exhaust
 by cutting off the air supply
・Power consumption: 0.35 W
・Improved flow rate characteristics: Up to 2.3 times
 that of the existing model C [dm3/(s·bar)]: 9.2
・Energy saving: No air flow when the main valve is switched
・Improved adjustability at low-speed air supply
・Smaller profile and reduced labor due to integrated silencer
Other Data :
> Safety Instructions
> F.R.L. Units/Precautions
> Green Procurement (RoHS)

Features
Soft Start-up Valve
A start-up valve for low-speed air supply to gradually raise initial pressure in an air system and for quick exhaust by cutting off the air supply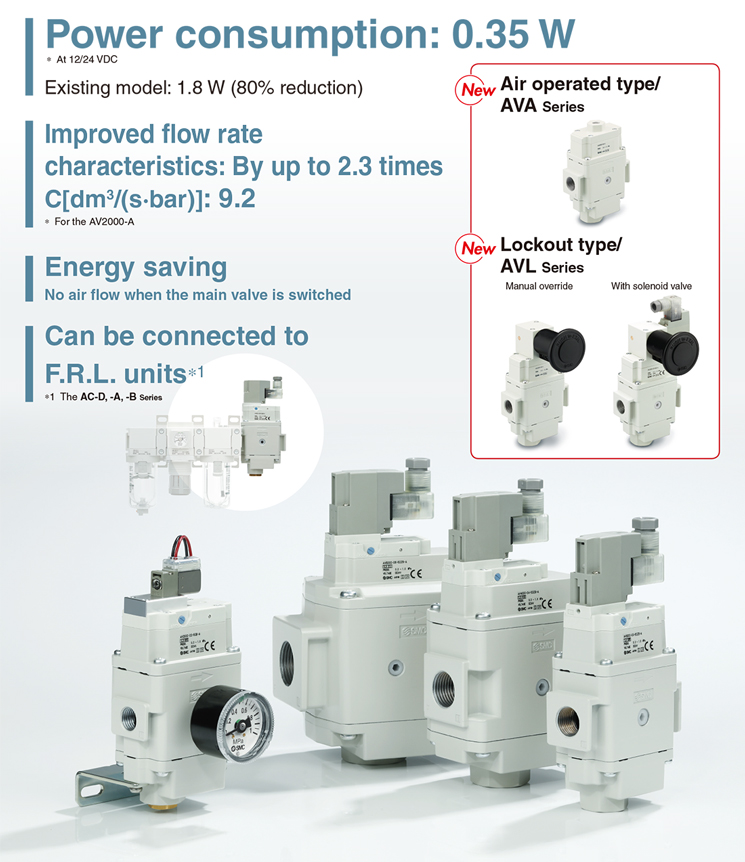 Improved flow rate characteristics*: By up to 2.3 times
C[dm3/(s·bar)]: 9.2, Fill time: Up to 50% shorter
* For high-speed air supply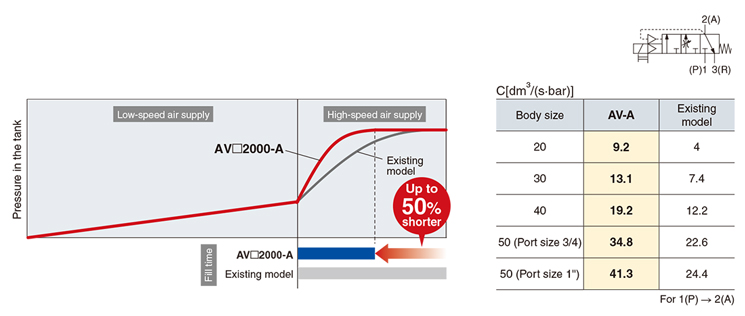 Improved low-speed air supply adjustability

Smaller profile and less work required due to integrated silencer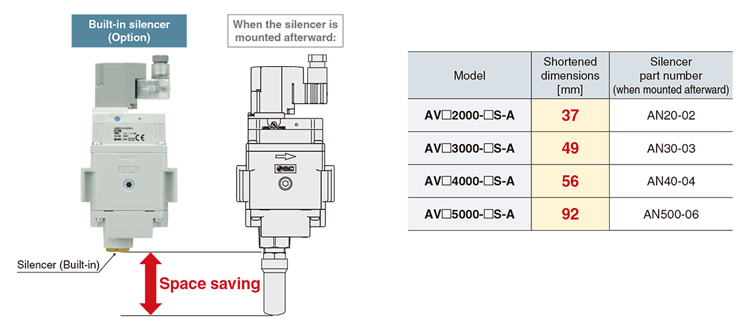 Energy saving
As the flow passage to port 3(R) is already closed for the main valve, air does not blow out from the product when switching the main valve (exhaust → low-speed air supply).
With a lockout mechanism (With locking hole) 
NEW
The manual button can be padlock secured during pressure release.
This can prevent accidental operation.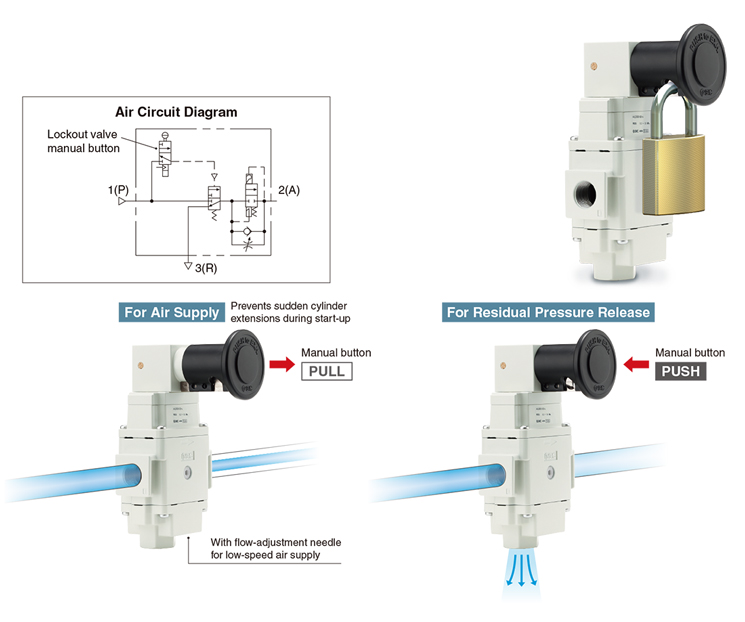 Options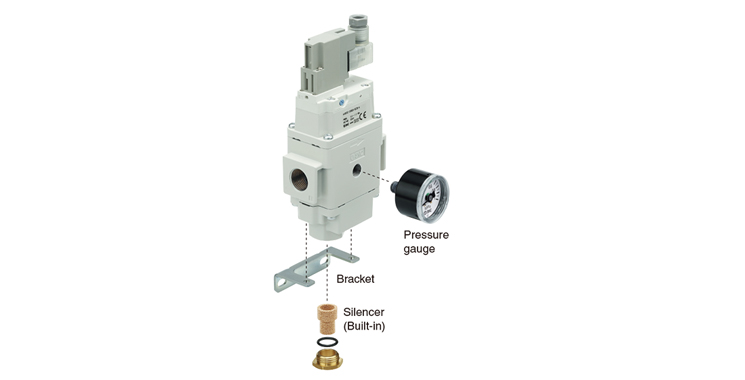 Variations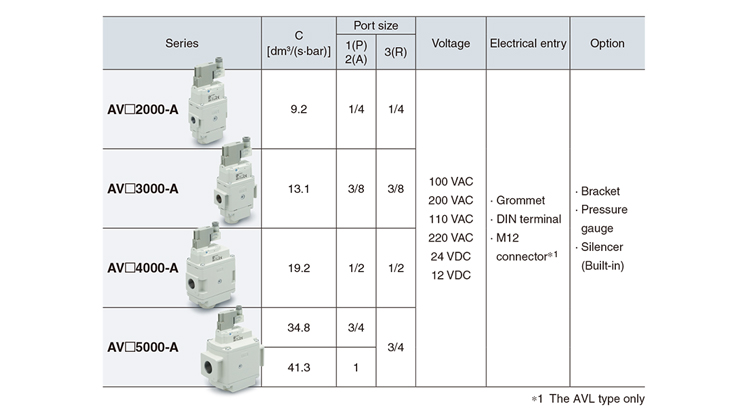 Electrical Entry Variations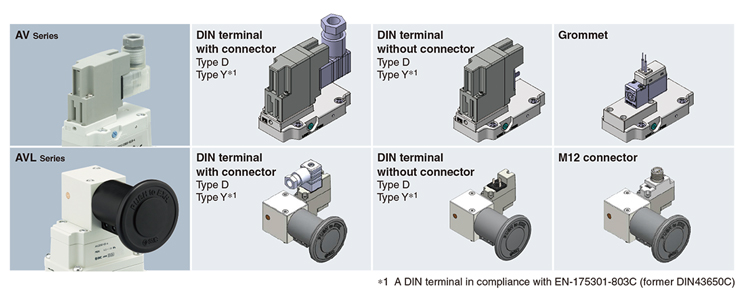 Manual Override Variations

Combination with F.R.L. Unit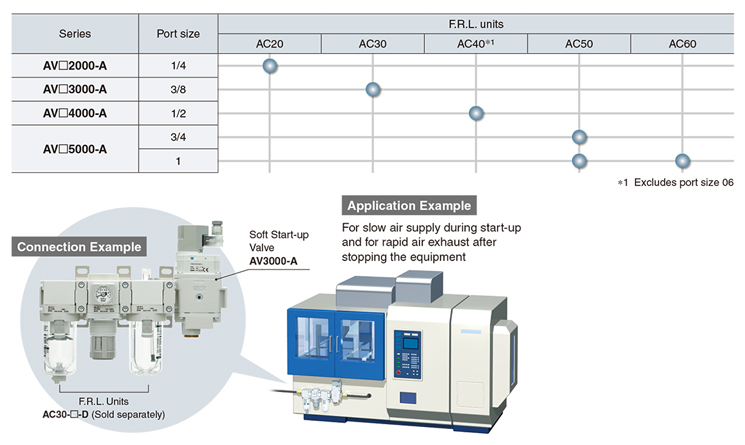 Simple Specials System
This product can be integrated into an F.R.L. unit through the simple special ordering system. The lead time is almost the same as that of the standard product.
Please contact your local sales representative for more details.