AIR CONDITIONERS, EXPLOSION-PROOF, HELICOPTER PLATFORM
WAROM – HELICOPTER LANDING PLATFORM AID SYSTEM
Application
• Widely used for landing aid signal on helideck of marine engineering oil and gas drilling platforms and ships etc. hazardous area.
• Can reliably work in severe environment where is easily affected by moisture, vibration, or corrosion.
• Explosive hazardous atmosphere Zone 1, Zone 2.
Executive Standard
• Comply with CAP 437 ICAO Annex 14, IMO standard requirements.
• Comply with IEC60079, EN60079, GB3836, GB12476 standards.  
System Features
• High-performance explosion-proof security
• Long-life LED light source> 100000h
• High degree of protection: IP66 / IP67
• High anti-corrosion design, adapt to the marine environment
•  Temperature:-40℃~+55℃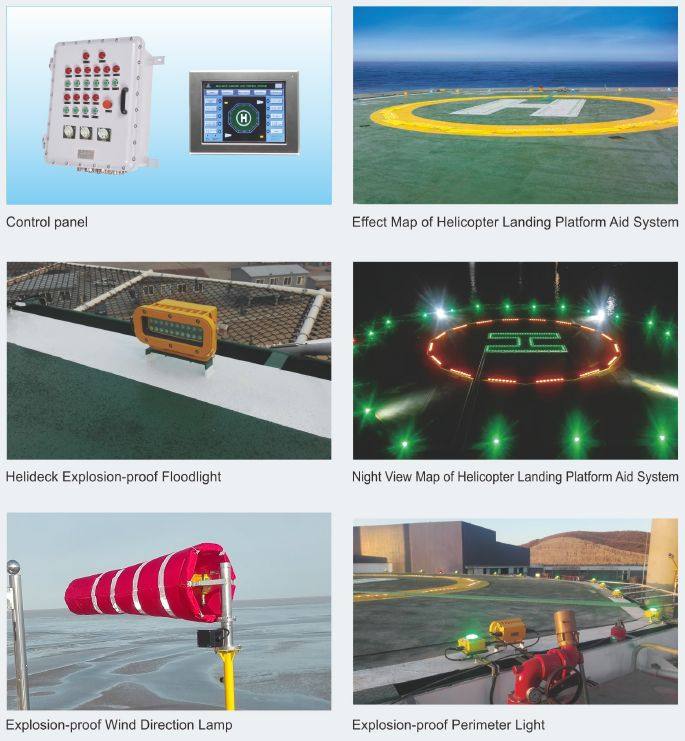 Specification
• Systematically meet CAP 437, ICAO standards;
• All the products and accessories installed on the platform of the helicopter platform are suitable for mounting in the range of ambient temperature (-40℃~+55℃);
• All explosion proof lamps and exposed fasteners installed on helicopter platforms can resist the corrosion of ocean environment.
• All lamps meet at least the requirements of the IEC international protection (IP) standard IP 66, i. e. Dust proof and strong water injection.
Data