EXPLOSION-PROOF, LED LIGHT FITTINGS
WAROM – BDD95 SERIES EXPLOSION-PROOF LED LIGHTINGS
• Explosion protection to
EN, IEC
• Can be used in
Zone 1,2,21,22
Class I, Zone 1,2
Division 2, Groups A, B, C, D
• Two enclosure types:90, 160
• Applicable lamp and power (max.160W)
LED: 60W, 90W, 120W, 160W
• Isolated LED lamp compartment, CC-CV (constant current – constant voltage) power controller compartment and terminal compartment; Wind-convection heat dissipation structure.
• New COB technology, large power and white light LED array, power of single LED can reach 20W~40W, high lighting efficiency, long service life.
• Two types of light distribution: spotlight and floodlight, which can be selected on request.
• 160 type lightings adopt light fitting integrated two lamps, the power of whole machine is of 2x120W,2X160W
• Low-maintenance due to long service life is up to 100,000 operating hours.
Specification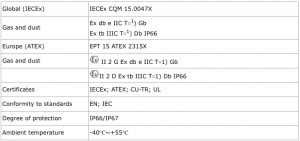 Data