LIGHTING, LOCAL, CAUTION SPOTLINGT FITTINGS
WAROM – BAYD 85 SERIES EXPLOSION-PROOF EMERGENCY EXIT LIGHT FITTINGS
• Explosion Protection to
EN,IEC
• Can be used in
Zone 1,2
• Lighting both in normal condition and emergency condition; When power supply is cut off, the emergency device starts to work; with overcharge, overdischarge protection and short circuit protection.
• With test pushbutton, convenient to check the emergency function. Press the test pushbutton, the light will switch into emergency condition.
• Ultra-bright LED lamp, low power consumption and long service life up to 50,000 hours; energy saving and environmental protection.
• Enclosure in Copper-free Aluminium Alloy, powder coated surface, yellow (RAL 1021).
• Toughened glass sheet resistant to temperature changes.
Specification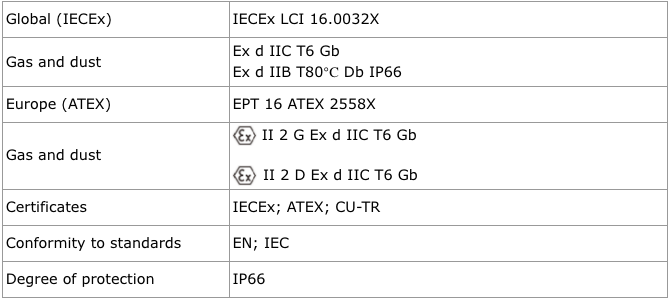 Data